View finder masking or cropping
Camera Clinic offer a service of masking SLR viewfinders with guide lines (crop lines) marking specific aspect ratios.
This is proving popular with photographers working on specific assignments requiring a certain aspect ratio.
Below is an example of a Canon EOS 5D viewfinder masked to 16:9 also with 4:3 indicator markings. This example was requested by photographer for their requirements.
There are two ways we crop the view finder.
An opaque barrier adhered to the view finder
A transparent temp plate is placed in front of the focusing screen.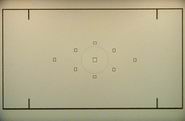 To discuss your specific needs please contact Camera Clinic. Ph 03 9419 5247
We can crop the view finder to suit your requirements.